Elsewhere Book Trailer Assignment
ReadWriteThink couldn't publish all of this great content without literacy experts to write and review for us. If you've got lessons plans, videos, activities, or other ideas you'd like to contribute, we'd love to hear from you.
More
Find the latest in professional publications, learn new techniques and strategies, and find out how you can connect with other literacy professionals.
More
Teacher Resources by Grade
Your students can save their work with Student Interactives.
More
Video · Multimedia · Photography · Editorial Cartoons · Voice
With a background in mathematics, philosophy, art and voice, I have a wide variety of interests and enjoy lots of different activities—and I do work as a producer, artist, photographer, author, and vocalist, too. Here are a few samples of my other projects in various media.
---
Video
Books
Citizen Canine: Our Evolving Relationship with Cats and Dogs
(May, 2014)
This was a collaborative book-trailer project with a colleague, David Grimm, an award-winning journalist I worked with at Science magazine who wrote this book (PublicAffairs, 2014). As David explains, "The book traces the journey of dogs and cats from wild animals to family members."
The Science Writers' Handbook - Trailer #2
(January, 2013)
In the process of making these two book trailers, I've really come to appreciate why Academy Award winners take so much time to thank everyone involved: it takes a lot of work by a lot of people to make a video. Sure, like the first trailer, this was a solo production job, but it would not have been made without the willingness of my co-authors to be on camera as well as view and comment on various versions.
Wilt's on Stilts!
(December, 2012)
After the Sandy Hook school shootings, I thought a lot about children and what they might be thinking in this crazy world of ours. So, in a bout of restless activity, I put together a video version of my book "Wilt's on Stilts!" to share with them. Of course, the e-book is for sale on Amazon and iTunes (as inexpensively as I could and still get them to offer it), but this video is the whole book—not a teaser—and I offer it to help children in thinking about who they are, to remind them that they will grow up, and to encourage them to find power within themselves to do amazing things.
The Science Writers' Handbook - Trailer
(October, 2012)
What on Earth is a 'book' trailer? I wondered as I volunteered to do one for the Science Writers' Handbook, to which I contributed a chapter.
Travel
Fences: Seen and Unseen
(May, 2013: South Africa)
Not long ago, when the human population was much smaller, we built fences around our towns and cities instead of fences around other animals. But because our species survived and thrived, our population is booming, and we face some difficult choices. There are fences we can see and fences we cannot see. Ultimately we are all fenced in: Earth is all we have together.
Engine of War
(March, 2011: Greensboro, NC, USA)
Each year on March 15 or the weekend falling closest to it, the Guilford Battleground Company puts on a reenactment of the battle at Guilford Courthouse. I don't know why I felt drawn to see it, but I found it very impressive. One particular impression that remains was this question: "How can we get our Congress back the powers that our Revolutionary soldiers fought for?" Nowadays the Executive Branch conducts war without Congress declaring it. That seems in stark contrast to the wisdom of our forebears to ensure only Congress had the power to declare war.
Dry-Eraser Board
Consider. Decide. Vote. (part 1), (2), (3), (4)
(Election Day, 2012)
Seemingly unrelated views may be contradictory. On Election Day, I offered a little hyperbole:
part 1: fertilized single-cells should have legal protection vs. babies born to undocumented immigrants are not citizens


part 2: expanding fossil fuel production leads to U.S. energy independence vs. U.S. energy independence will lower gas prices


part 3: Samaritan actions are good vs. governmental redistribution is wrong


part 4: Emerson's self-reliance vs. Rand's objectivism
The role of the federal government?
(October, 2012)
In response to the presidential debates regarding the role of the federal government, I made this little video to describe the federal government's role in regard to one aspect that affects millions of Americas: setting the minimum wage.
It's Just a Question
This is a series of videos I've started that gets at the idea that science isn't a set of facts but a way of thinking.
How did we learn that no two snowflakes are alike? (January, 2015)
We've all heard that no two snowflakes are alike, but can you reason through why that may or may not be true?
How did we learn that the Sun is much bigger than the Moon? (May, 2012)
We all know that the Sun is much bigger than the Moon, but can you devise an experiment and figure it out by yourself?
How did we learn that the Earth orbits the Sun once a year? (March, 2012)
We all know that the Earth orbits the Sun once a year, but can you devise an experiment and figure it out by yourself?
How did we learn that the Earth is round?
(February, 2012)
We all know that the Earth is round, but can you devise an experiment and figure it out by yourself?
Fun
The Tube Movie (GoPro Parody)
(January, 2015)
Tubing radness R. E.'s style. Shot entirely with a (Refurbished) Sony BLOGGIE camera. No mount.
Music: "Coloris" - She - used with permission
Bethany Beach Sunrise
(June, 2012)
Minute-by-minute time lapse of the sunrise at Bethany Beach, Delaware. The music I "assembled" with Apple's Garageband program.
---
Multimedia
Snow Fall in July
(July, 2013)
The 2012 Pulitzer prize-winning "Snow Fall"—a newspaper story published in December, 2012—had an interesting multimedia treatment. I spoke about it with the author of the piece, John Branch of the New York Times, and put together my own mulitmedia piece of that interview thanks to the generousity of Mr. Branch in providing an audio recording of his side of the conversation and being willing to appear on camera via Skype.
---
Photography
Africa
I've been to Africa a couple of times now and have many thousands of pictures from there, such as this panorama of Blyde River Canyon—the largest "green" canyon in the world and third largest canyon overall. My trips there have been mostly on safari, accompanying an animal behaviorist and her students, so I certainly captured pictures of many animals as well, including all of the "Big 5"—elephant, cape buffalo, lion, leopard, rhinoceros—that were the subject of so many hunting expeditions of yesterday and today... but probably not tomorrow.
I must say that it is an awesome experience to see a lion only a few meters away. Thankfully, we just looked like a bright light to this male, sounded like a large animal he hadn't evolved with, and smelled like diesel exhaust.
Of course, posting all these pictures here would make this page load slowly. So if you are interested in looking at a selected few, please check back as I will have them available via a public folder at some point, or you can for requests of photos for specific subjects. They are for sale.
These photographs and the files in the folder have all been downsized for quick loading, but the originals are all large enough to be .
Of course, along with video, I can take photographic assignments, so if you're interested in commissioning my work (for Africa or elsewhere), please be in touch via email at: RobertFrederick (at) nasw (dot) org.
---
Editorial Cartoons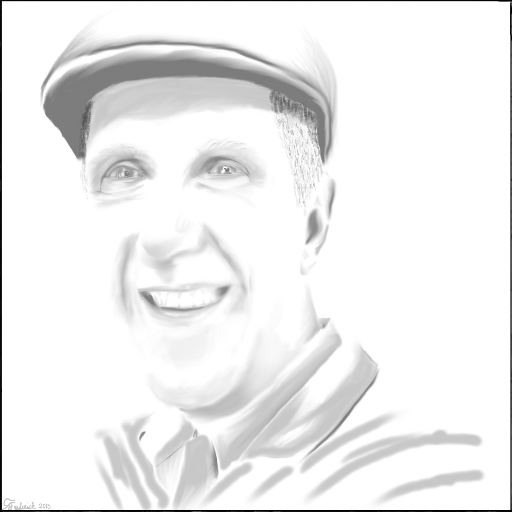 Cartoons are a simplified or exaggerated version or interpretation of something.
For me, cartoons give me the opportunity to express thoughts using a different medium. Whether they're thoughts about science, politics, or even humor, I have always loved sketching and drawing as a way to express ideas. As of 2015, I'm really giving editorial cartooning a go.
If you're intrested, please click over to the editorial cartoons section.
---
Voice
Most of us learn to communicate using our voices first.
Words matter, of course, but words with proper intonation can be so much more powerful than words alone. For me, using my voice means communicating, whether I'm narrating videos or multimedia modules, interviewing, hosting, or telling a story (whether or not there's music involved).
In addition to narration and podcasting work I've done and do, I'm a vocalist singing bass with Bel Canto Company in Greensboro, North Carolina.